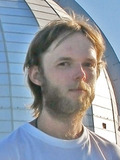 postdoc at the Institute of Astronomy, University of Cambridge, UK (2017–2022) postdoc at Rudolf Peierls Centre for Theoretical Physics, University of Oxford, UK (2015–2017)
researcher at Tamm Theory Department of Lebedev Physical Institute (LPI), Moscow, Russia (2003–2010, 2013–2015)
postdoc at Rochester Institute of Technology, Rochester, NY, USA (2011–2012)
PhD in theoretical physics (2007) from LPI;
MSc from Moscow Institute of Physics and Technology in 2003.
email: eugvas@protonmail.com
Dynamical modelling of galaxies (lecture at the DAGal summer school, Marseille, June 2014)
Lectures at the Summer School on Galactic Dynamics, Shanghai, June 2019:
Lectures at the 45th Heidelberg Physics Graduate days, October 2020:
Modern stellar dynamics (4th year course at the University of Cambridge, Winter 2022):
Simulations of self-gravitating systems (galaxies, nuclear star clusters)
E.Vasiliev, "A new Monte Carlo method for dynamical evolution of non-spherical stellar systems" (MNRAS 2015)
E.Vasiliev, "A new Fokker–Planck approach for relaxation-driven evolution of galactic nuclei" (ApJ 2017)
Q.Zhu, E.Vasiliev, Y.Li, Y.Jing, "Primordial black holes as dark matter: constraints from compact ultra-faint dwarfs" (MNRAS 2018)
J.Sanders, E.Lilley, E.Vasiliev, N.W.Evans, D.Erkal, "Models of distorted and evolving dark matter haloes" (MNRAS 2020)
E.Vasiliev, V.Belokurov, N.W.Evans, "Radialization of satellite orbits in galaxy mergers" (ApJL 2022)
C.A.Dong-Paez, E.Vasiliev, N.W.Evans, "A 6-d view of stellar shells" (MNRAS 2022)
T.Tepper-Garcia, J.Bland-Hawthorn, E.Vasiliev, E.Athanassoula, O.Gerhard, A.Quillen, P.McMillan, K.Freeman, G.Lewis, R.Teyssier, S.Sharma, M.Hayden, S.Buder, "A barred Milky Way surrogate from an N-body simulation"
E.Davies, E.Vasiliev, V.Belokurov, N.W.Evans, A.Dillamore, "Ironing the folds: The phase-space chevrons of a GSE-like merger as a dark matter subhalo detector" (MNRAS 2023)
E.Davies, A.Dillamore, E.Vasiliev, V.Belokurov, "Accelerated phase mixing in the stellar halo due to a rotating bar" (MNRASL 2023)
P.Galan-de Anta, E.Vasiliev, M.Sarzi, M.Dotti, P.Capelo, A.Incatasciato, L.Posti, L.Morelli, E.Corsini, "The fragility of thin discs in galaxies - I. Building tailored N-body galaxy models" (MNRAS 2023)
P.Galan-de Anta, P.Capelo, E.Vasiliev, M.Dotti, M.Sarzi, E.Corsini, L.Morelli, "The fragility of thin discs in galaxies - II. Thin discs as tracers of the assembly history of galaxies" (submitted)
Raga — a software for Monte Carlo simulations of non-spherical stellar systems, possibly containing massive black holes.
PhaseFlow — a Fokker–Planck code for spherically-symmetric isotropic multicomponent stellar systems, possibly containing a massive black hole.
Introduction and tutorial for gravitational N-body simulations (for undergraduates, Spring 2013): Lecture notes and problems.
Numerical simulations of gravitational dynamics (lectures at the School of Modern Astrophysics, Moscow, June 2016): Lectures, Seminars.
Lecture 1: Astrophysical introduction to gravitational dynamics.
Basic concepts: mean-field regime, two-body relaxation, collective effects, secular evolution.
Physical regimes: collisional vs. collisionless.
Overview of gravitational N-body problem, computational challenges.
Astrophysical contexts: planetary systems, star clusters, galactic dynamics, cosmological structure formation.

Lecture 2: Collisional systems — planetary systems and star clusters.
Direct-summation methods. Symplectic and Hermite integration methods. Choice of timestep.
Two-body regularization schemes and their extensions.
Secular evolution of near-Keplerian systems, orbit-averaged approach.
Long-term evolution of planetary systems and globular clusters.

Lecture 3: Collisionless systems — galaxies and cosmology.
Force softening and its physical interpretation; resolution and convergence.
Tree-code and fast multipole methods.
Grid-based Poisson solvers (FFT and multigrid relaxation methods), adaptive mesh refinements schemes.
Basis-set expansion technique.
Cosmology: comoving coordinates, initial conditions, halo finders.

Lecture 4: Unconventional approaches and miscellaneous other issues.
Computational issues: hardware acceleration, GPU, parallelization strategies.
Direct solution of collisionless Boltzmann equation, applications to dark matter dynamics in cosmology.
Fokker-Planck and Monte Carlo methods for collisional systems.
Hydrodynamics — main approaches: grid-based, SPH, moving-mesh.
Gastrophysics and sub-grid physics in cosmological context.

Seminar 1: Overview of gravitational N-body simulation software.
Workflow of numerical simulations. Individual simulation codes and integrated frameworks: NEMO, Starlab, AMUSE.
Architecture of the AMUSE framework. Setting up and testing the simulation environment on laptops.
Creating and analyzing a simple N-body model.

Seminar 2: Simulations of collisional systems.
First-hand experience with various integration schemes. Assessing the validity of simulations, error control.
Evolving a star cluster and the Solar system.

Seminar 3. Simulations of collisionless systems.
Dynamical friction acting on a point-mass satellite orbiting in a galaxy.

Seminar 4. Bridge coupling of individual integrators.
Star cluster orbiting in a galaxy. Tidal stripping and dissolution acting together with dynamical friction.
Dark matter halo structure and evolution
PhD thesis: «Dynamics of dark matter in galactic centers» (in Russian). Abstract, Автореферат, диссертация
The evolution of dark matter in central areas of galaxies is considered (Milky Way is taken as an example). The formation of a galaxy leads to the compression of dark matter halo due to baryonic infall. Traditional method of calculating the compression (Blumenthal method) is shown to overestimate the dark matter density, especially for more flat initial halo density profiles and for radially anisotropic particle velocities. Subsequent evolution is driven by scattering off of dark matter particles on bulge stars and their absorption by the supermassive black hole. It is described by diffusion equation in energy - angular momentum phase space. The diffusion coefficients are calculated, as well as the absoroption and evaporation rate of particles. It is shown that by now the density of dark matter inside central parsec is greatly diminished: approximately 10% of initial dark matter mass is captured by black hole, about a half is evaporated. The annihilation of particles may explain observed gamma-ray flux from Galactic center
Its results are mainly presented in the following papers:
E.Vasiliev, M.Zelnikov, "Dark matter dynamics in the galactic center" (Phys.Rev.D 2008)
E.Vasiliev, "Dark matter annihilation near a black hole: Plateau versus weak cusp" (Phys.Rev.D 2007)
E.Vasiliev, "A simple analytical model for dark matter halo structure and adiabatic contraction" (JETP 2006)